Mercy Mester Wrap Up!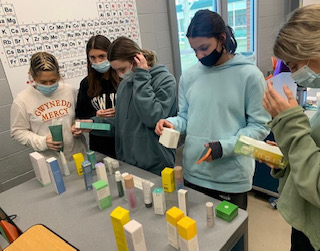 After the long first semester and on the brink of a gritty second semester, the freshman, sophomores, and juniors are left with 3 days between the first and the second semesters. This is where the Mercy Mester tradition comes in! This year we had tons of new courses for the girls to explore and the amount of positive feedback received from the Gwynedd community was insane! One of our New Monarchs, who had a first-time experience, stated that "It was an immersive and embracing time, with fantastic classes!" There were over 40 non-curricular based courses for students to choose from and here were some of the week's highlights.  
In Global Cuisine there were three different, delicious dishes that students alternated, so every day was exciting and filled with new flavors! Between making homemade tortellini with Ms. Fasano, enchiladas and sweet churros with Mrs. Cheeseman, and Vietnamese Pho with Mr. Bailey everyday students' taste buds traveled outside of Gwynedd and all over the world, giving students the taste of different countries.   
Mrs. Koffel and Mrs. Lane taught the Gwynedd girls all about how to take care of their bodies and their minds in the Whole Person course, where they had discussions about healthy sleeping schedules, different exercises and their purposes. They ended their week with some very relaxing yoga and healthy breathing exercises.  
Mrs. Koffel took on the challenge of changing the narrative "Damsels in Distress" to something more empowering… Damsels Who Disrupt! In this class, students were challenged to take on the normal societal standard of what womanhood should be and flip the narrative. They talked about female role models affecting society today.
 
Overall, Mercy Mester was an eye-opening, hands-on learning experience. Many girls will use the skills they learned this past week as inspiration for their future careers. The joy of Mercy Mester truly is to experience a non-curricular education and embrace a different method of learning. The 2022 Mercy Mester was an absolute success, and we can't wait to see what's in store for next year!