Cross Country Senior Night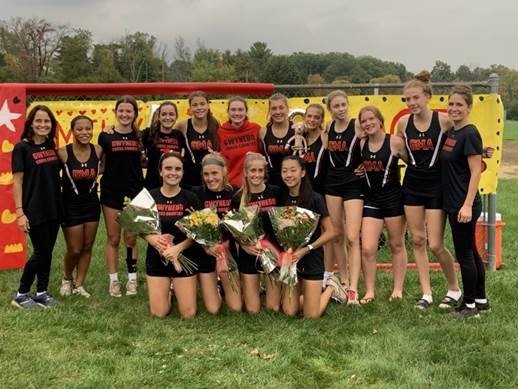 If the 2021-2022 Gwynedd Cross Country Team had to be described in one word, it would be family. GMA XC developed a very special bond this year and became closer than ever. From sleepovers to beach trips, Wing Nights, and theme weeks, the team not only grew their running talents but their sisterhood.
On Wednesday, October 13th, the team prepared a great night for each of their very special seniors, Lauren Hirschman, Grace Stetler, Ellie Perry, and Emily Morrison. Post-race, the girls took lots of pictures, and each senior was clapped down the "runner tunnel" as they were escorted by each of their parents. They were celebrated with flowers, cookies, and fatheads with their faces on them! The sophomores even made special signs with each of the girls' names. When asked, "What was your favorite part of Senior night", Co-Captain, Ellie Perry says, "I truly loved just spending my last home race with my favorite people in the world. I couldn't imagine doing this with anyone else".
Besides having a fun-filled night, the XC team had a great race! With personal best times all around, GMA XC was able to beat Villa Maria Academy and place extremely well. Junior, Piper Marion says, "The course was hard, but that is the best part of Cross Country; pushing yourself harder than you think you can! I know I couldn't do it without the rest of my GMA XC girls.". This race was extremely important as it was the last race before the team competes at the League Championships. It was a great way to end a spectacular regular season.
As the 2021-2022 season comes to a close, Senior night was truly the best way to end it. At home, on a fall Wednesday night, surrounded by family, friends, and coaches, the Seniors felt appreciated and truly loved. Lauren Hirschman, Grace Stetler, Ellie Perry, and Emily Morrison have been great leaders for each of the girls, and truly will be missed. The team wishes them the best of luck in their future and knows they will do great!